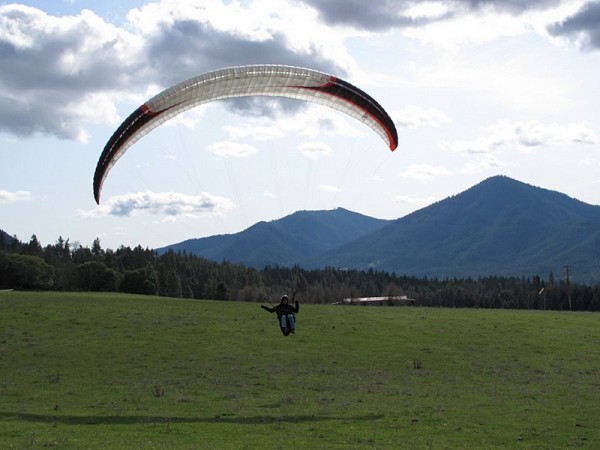 RVHPA has two different levels of membership:
* Visiting Pilot Annual Member– $35 online
* Local Pilot Annual Member– $85 online
Please see the Join RVHPA page for detailed information on joining or renewing your RVHPA membership.  You can join online.  When you join on line your name will immediately appear on the membership web page. When you join online, you can request that we mail you a site pass and helmet sticker.
 Where does the membership money go?
Membership funds  pay for maintaining windsocks in the greater Woodrat area, annual holiday gifts to every landowner whose field we use as an LZ, grading and improving the launch slope, maintaining the parking areas, maintaining the toilet on launch, installing cattle guards on the road, purchasing grass seed for the main LZ, etc.  RVHPA spends thousand of dollars a year to maintain the Woodrat launches and the related LZs in the Applegate Valley.  Any excess funds are invested towards our goal of purchasing a bailout landing zone.
How the Membership Requirement Works
Pilots must be current members of RVHPA and USHPA before using any USHPA insured landing zone's in the area.  Joining requires completing a membership form, paying dues, reviewing the site guide, and displaying and or providing the proper membership identification. All RVHPA members must also be current USHPA members. This is very important for liability and site insurance purposes.
RVHPA membership is required to legally land in the primary LZ (aka Hunter LZ), use the parking area along Bishop Creek Road, or land in the "feed lot" field on Bishop Creek Road. Those fields and the parking area are private property. The landowners graciously allow RVHPA members to use them. Non-members who use them are trespassing. Please respect this rule and do not trespass on private property.
RVHPA insures the primary landing zones at Hunters Ranch and at LongSword Vineyard.  USHPA  and RVHPA membership is required to land at these sites unless you have prior permission from the landowners.
FAQ on the RVHPA Membership Requirement at Woodrat Mountain
How will RVHPA know if I am a member? All new and renewing annual members will have their rating and membership type show up immediately on the membership page after  completing their online application.  RVHPA club members and officers will be politely if you are a member. The flying community and the club will also sometimes check memberships in the LZ.
The launches on Woodrat Mountain are on public land. How can RVHPA require me to join before launching from land that is freely open to all people? RVHPA membership is not required to launch from Woodrat Mountain, but it is required to land in the privately owned LZs surrounding the mountain and to land in Donato's LZ Donato, 16km (10 miles) to the east. Every pilot who launches at Woodrat is assuming that he or she will land in the Hunter LZ because it is the only LZ within a guaranteed glide of launch. We can fly at Woodrat only because we are welcomed–as RVHPA members–in the only field guaranteed to be within glide of launch. RVHPA membership is also required to use the privately owned parking area on Bishop Creek Road near the LZ.
I'm a tandem instructor from out of the area and I want to fly a commercial tandem flight at Woodrat Mountain. Can I do that?  Please see Tandem Instructor information here: https://rvhpa.org/instruction/wmic/
I'm coming for the Applegate Open this year. Do I have to join RVHPA? If you plan on flying before , during or  after the event you will need to purchase a membership.
Can I see a list of RVHPA members? Yes. The club keeps a frequently updated current member list on the RVHPA website.
Do I have to be an RVHPA member to fly at The Whaleback? No, but we'd love it if you joined RVHPA anyway as a way of supporting our ongoing work and improvement of The Whaleback flying site.
Updated 11/28/2023
Dan Wells