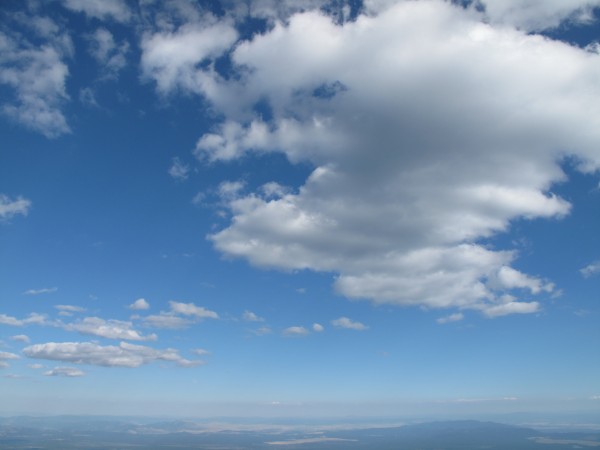 RVHPA's local sites extend from valleys influenced by coastal weather on the west to interior areas characterized by desert-like climates in the east. As such, flying weather in our area can vary substantially from site to site on any given day and some sites maybe better than others for particular weather patterns. Further, valley influences often dictate winds more than synoptic patterns, giving great variability within a relatively small area.
All of RVHPA's sites are thermal flying sites. This means that in Spring, Summer, and early Fall pilots can generally expect days to follow a pattern of light conditions early in the day, increasingly strong and turbulent conditions during peak heating, and smoother conditions in the evening. Winds may sustain evening ridge soaring and glass-offs at some sites–Woodrat and The Whaleback, in particular.
Useful Weather Links
All links will open in a new window.
Woodrat  Webcams
General Forecasts – National Weather Service
NWS Medford Forecast Office (SW Oregon/NW California Weather)
Ruch Point Forecast (Woodrat LZs)
Woodrat Mountain Point Forecast (Woodrat Launch)
Medford Point Forecast (Central Rogue Valley)
Emigrant Lake Point Forecast (Training Hill near Ashland)
Grants Pass Point Forecast (Western Rogue Valley/Walker Mountain)
Shasta Valley Point Forecast (Herd Peak/The Whaleback)
Regional Forecast Discussion
Forecast Winds, Upper Air, & Fronts
NOAA ADDS (Aviation Digital Data Service)
Surface Wind Forecast Loop: GFS | NAM
5000 Foot Wind Forecast Loop: GFS | NAM
10000 Foot Wind Forecast Loop: GFS | NAM
RUC Skew-T Forecasts [mobile friendly]
MFR 00/12 UTC Sounding
MFR MM5-GFS Forecast
Jet Stream Analysis [latest map]
National Upper Air Map: 850 Mb | 600 Mb | 300 Mb
RAL National Weather Front Map
Integrated Flying Forecast Sites
Remote Access Weather Stations (RAWS)
Applegate Valley, Oregon
Woodrat upper launch (elev. 3780 ft.)
 LongSword Vineyard LZ  (2 miles W of Woodrat, elev 1457 ft.)
Wells Land Vineyard LZ ( 2 miles west of Woodrat at the mouth of the upper
Applegate. Elev 1485 ft.)
Provolt Seed Orchard (12 miles WNW of Woodrat, elev. 1200 ft.)
Squaw Peak (11 miles S of Woodrat, elev. 5000 ft.)
Tallowbox Mountain (5 miles WSW of Woodrat, elev. 4961 ft.)
Rogue Valley, Oregon
Sexton Summit (32 miles NW of Woodrat on I-5, elev. 3800 ft.)
Siskiyou Summit (24 miles SE of Woodrat on I-5, elev. 4300 ft.)
Medford Airport (12 miles NE of Woodrat, elev. 1300 ft.)
Evans Creek (near Rogue River, OR, elev. 3200 ft.)
Ashland Airport (4 miles NW of Training Hill, elev. 1900 ft.)
Shasta Valley, California
Siskiyou County Airport (20 miles NW of Herd Peak/The Whaleback, elev. 2650 ft.)
Weed Airport (12 miles SW of Herd Peak/The Whaleback, elev. 2950 ft.)
Military Pass Road (near The Whaleback LZ, elev. 4500 ft. )
Shasta Webcam links:
Snowcrest webcam
California DOT webcams
Weather Station Maps
MesoWest
Personal Weather Station Map
Radar & Satellite Info
MFR Regional Doppler Radar Image
Pacific NW Doppler Radar Loop
GOES-East – Sector Views: Pacific Northwest – GeoColor – NOAA / NESDIS / STAR
NEXLAB Visible imagery of northwest U.SWestern Conus IR Satellite Loop
West Coast GOES IR Satellite & Surface Winds Map
Time
Sunrise/Sunset/Solar Noon Calculator
UTC Time Converter
Weather Education & Reference
MetEd Skew-T Mastery
NWS Weather Glossary
NWS Soaring Definitions
Weather Prediction & Analysis Education
NWS Jetstream Online Weather School
Online Meteorology Guide – University of Illinois
Other
Local Road Cams
FAA Temporary Flight Restrictions
National Fire News
Active Fire Maps
Pacific Northwest Environmental Forecasts and Observations
Updated:  March 6, 2022
Dan Wells