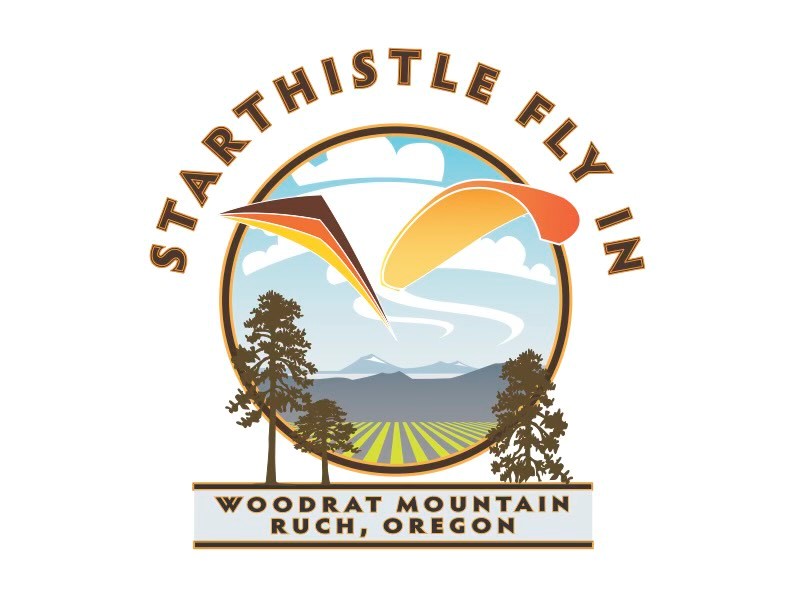 We are excited to welcome you to the 45th Annual Starthistle Fly-In this June 9th – 14th at Woodrat Mountain in Ruch, Oregon! This is a great opportunity for hang glider and paraglider pilots of all levels and abilities to come together and enjoy the beautiful flying conditions at Woodrat Mountain, and registration is now open. We've already had some epic flying days this year with pilots touching the clouds at altitudes exceeding 9000ft and it's only going to get better! Come join us in the beautiful Applegate Valley for 5 days of flying, fun contests (spot landing!), educational talks and much more.
When: June 9th – June 14th (Registration and arrival June 9th)
Where: Woodrat Mountain, Ruch Oregon. HQ will be at Cantrall Buckley Campground
What's Included in Your Registration: The event registration ($80) includes a RVHPA visiting pilot membership, 5 days of fun flying, site introduction, local mentorship, daily educational talks, coordinated rides to launch, a Saturday night party, and a free t-shirt! (Sizes for t-shirts only guaranteed for pilots registered and paid before May 15).
Here's the link to register and pay
Here's the link to pay if you've registered and not yet confirmed with a payment.
Spot landing rules here
Rides to Launch / Transportation: Vans and a Truck with HG Rack are coordinated and will run on a regular daily schedule to take pilots to launch (you'll need to pay your driver $10 per ride to launch). We're working on coordinating some retrieve options to be available for pilots landing out as well, but this is not included in the registration, stay tuned!
Camping /Accommodation Options: The first 30 registrants will have the option to reserve a space at the Cantrall Buckley Group Camping Area/HQ at a reduced cost. Individual campsites are available on a first come first served basis, and other accommodations including camping at Raven's Landing and the Crash Pad and local Airbnb/Hotels are available to be reserved independently.
About the Site: Woodrat mountain is located in Southern Oregon and has been home to many US national events. The surrounding valleys and complex weather patterns are excellent training grounds for understanding lift patterns.
Woodrat has tremendously consistent flying. Expect a plentiful lift and changing weather. Flying can be complex and intriguing. Proper decision-making results in 60-160 km straight line and FAI triangle flights.
Woodrat sits above the Applegate Valley, home to numerous wineries, lodges and the Applegate river, with plentiful activities for non-flying partners. Our primary LZ is Longsword Winery where spectators can enjoy a glass of wine as they wait for you to land.
Mid-day flying at Woodrat in the summer requires good bump tolerance and a P3/H3 rating, but morning conditions and evening glass offs are usually consistent, gentle, appropriate for P2/H2 and sometimes last until after the sun sets.
Tentative Event Schedule (subject to change)
Friday June 9th
4:30 PM Sign-in/ Registration at Cantrall Buckley Group site at Campground
Free Flying Glass Off
Saturday June 10th
8:00-9:00 AM Sign-in/ Registration at Cantrall Buckley Pavilion
Mandatory Pilot Meeting at Cantrall Buckley Pavilion
9:00 AM Welcome to Woodrat – Justin Caprari
9:05 P2 Site Briefing for new pilots – Rick Ray
9:45 Safety/Mid-day talk, weather – Rick Ray
** Spot Landing Fun Competition Closing at 5;00 pm**
11:00 AM Shuttle to Launch from Cantrall Buckley & Passing by Hunter LZ
1:00 PM Shuttle to Launch from Cantrall Buckley & Passing by Hunter LZ
5:00 PM Shuttle to Launch from Cantrall Buckley & Passing by Hunter LZ
6:30 PM Party & Spot Landing Awards at Cantrall Buckley Pavilion
Longsword gates close at 6 pm, no landing after hours. Paraglider Spot landing contest closes at 5:00PM
Sunday June 11th
11:00 AM Shuttle to Launch from Cantrall Buckley & Passing by Hunter LZ
1:00 PM Shuttle to Launch from Cantrall Buckley & Passing by Hunter LZ
4:00 PM Educational Talk: Understanding Woodrat Weather @ Applegate Fire Dept
5:00 PM Shuttle to Launch from Cantrall Buckley & Passing by Hunter LZ
6:30 PM Informal Dinner at Local Restaurant (TBD
Monday June 12th
11:00 AM Shuttle to Launch from Cantrall Buckley & Passing by Hunter LZ
1:00 PM Shuttle to Launch from Cantrall Buckley & Passing by Hunter LZ
4:00 PM Educational Talk: Stocking your Flying First Aid Kit @ Applegate Fire Dept
5:00 PM Shuttle to Launch from Cantrall Buckley & Passing by Hunter LZ
6:30 PM Informal Dinner at Local Restaurant (TBD)
Tuesday June 13th
11:00 AM Shuttle to Launch from Cantrall Buckley & Passing by Hunter LZ
1:00 PM Shuttle to Launch from Cantrall Buckley & Passing by Hunter LZ
4:00 PM Educational Talk: Instrument Setup Workshop & Task Flying @ Applegate Fire Dept
5:00 PM Shuttle to Launch from Cantrall Buckley & Passing by Hunter LZ
6:30 PM Informal Dinner at Local Restaurant (TBD)
Wednesday June 14th
Checkout of Group Camping & Cantrall Buckley
11:00 AM Shuttle to Launch from Cantrall Buckley & Passing by Hunter LZ
1:00 PM Shuttle to Launch