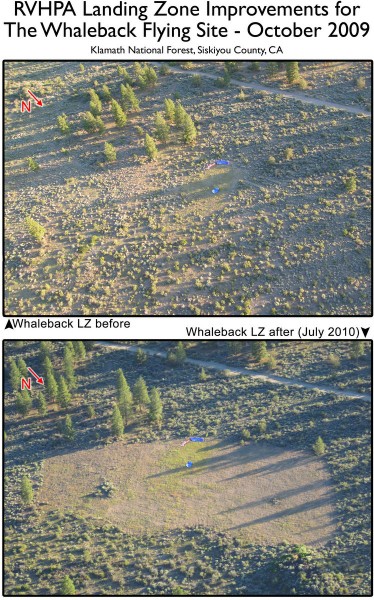 RVHPA is now working on launch improvements as part of Phase 2 of The Whaleback Site Improvement Project. Please check out our plans. We need your support to help improve the site.
Phase 1: Reclaiming a Disappearing LZ
Problem: after at least 15 years without maintenance, the LZ at The Whaleback had become overgrown by sagebrush to the point that it measured about 70 feet by 70 feet in size. This postage stamp LZ kept many pilots away and the spectacular flying opportunities at The Whaleback were only enjoyed by those willing and able to land in a tiny LZ.
The fix: RVHPA spearheaded an effort to reclaim the LZ and expanded it to 20 times its previous size in October 2009. With significant help from the Klamath National Forest, RVHPA cleared the LZ of nearly 15 years of brush growth, enlarging the landing zone by nearly twenty-fold. We've seeded the newly-cleared LZ with native grass seed twice now and it will be getting greener and greener over the next few years as the grass takes root.
Many thanks go to the Klamath National Forest's Goosenest District for performing the heavy brushing. RVHPA held a work party to remove the remaining roots so that the LZ would be friendly to feet, wings, and lines. It was perhaps the largest turnout of any work party the club has had: over 25 pilots participated in the dusty task of digging, raking, and piling roots. When we were done, we headed to launch and had some of the best mid-October flying possible. Because we were unable to remove all the roots ourselves, RVHPA also paid a professional contractor to use heavy equipment to remove every last root.
Whaleback LZ Improvement Project Photo Gallery
The following photos show the work and results of Phase 1 of The Whaleback Site Improvement Project.
Phase 2: Improving The Whaleback's Launch
With Phase 1 completed, RVHPA is now working on Phase 2's launch improvements. Please see our Phase 2 page.